Picking the Right Dates for your Project
When is the best time to produce your show? An important consideration when planning your event is what other cultural events are happening at the same time! Is it beneficial for you to schedule your production during the Fringe festival, just before or just after?
Toronto has a Toronto Theatre Spreadsheet regularly updated on a volunteer basis, which has replaced the now-defunct Opening Night Database. TAPA also has a site listing What's On Tonight for productions being put on by its members only.
In BC, The BC Alliance for Arts & Culture has a Calendar of Key Events in the Province.
You may also want to consider culturally significant dates, religious holidays, and new years when planning your event. You can find a list of Culturally Significant Dates and New Years for 2020 here.
Critical Paths for Producing Theatre
Producing theatre is a lot of work. The common reality is that it will require a superhuman effort to mount your production on minimal resources. In order to have the best experience possible, it is important to lay out a clear timeline. Using the CRITICAL PATH METHOD is a good way to manage your time and remain focused on essential tasks through the months leading up to opening night and the last moments of strike.
What is the Critical Path Method?

Critical Path Method is an important concept in basic project management. It is essentially a sequenced timeline of activities in a given project that highlights the core tasks. It is used to map out important tasks within a project and estimate the duration of the entire endeavour.
Every project, regardless of the scale, has core tasks that are essential to the project's completion. Completing these core tasks don't necessarily make a successful project, but they are the bare requirements to consider a project accomplished. For example: hiring actors and rehearsing the play are core tasks, while designing a beautiful Front-Of-House display is not. The sequence of these core tasks and their duration will make up your Critical Path.
The method of building a Critical Path seems more complicated and technical than it really is. Doing this work at the beginning of the planning phase will save you time and resources down the road.
Step 1: List your activities

Example:
| | | |
| --- | --- | --- |
| Task ID | Task | Estimated Task Duration (Days) |
| A | Start | 0 |
| B | Secure Rights to the play | 5 |
| C | Hire Actors | 5 |
| D | Build Set | 10 |
| E | Buy Costumes | 10 |
| F | Rehearse the Play | 21 |
| G | Create and Print Handbills | 5 |
| H | Tech Rehearsals | 3 |
| I | Dress Rehearsal | 1 |
| J | Opening Night | 1 |

Choose which activities apply to your project. This list of activities will form the basis for your Critical Path so make sure it is thorough. This will help you decide what scale of timeline you will be working with for your project (Days/Weeks/Months).
Here is a list of Activities to get you started:
(using a screen-reader? Download an accessible PDF version of the list here

Step 2: Identify all "Dependencies"

Any project has two types of tasks
Tasks that can only be started once other tasks have been completed (Dependent Task)
Tasks that can be started independent of others and can be done at the same time as other tasks (Concurrent Tasks)

Example:
| | | | |
| --- | --- | --- | --- |
| Task ID | Task | Estimated Task Duration (Days) | What Needs to Happen First? |
| A | Start | 0 | |
| B | Secure Rights to the play | 5 | A (Start) |
| C | Hire Actors | 5 | B (Securing rights) |
| D | Build Set | 10 | B (Securing rights) |
| E | Buy costumes | 10 | C (Hiring actors) |
| F | Rehearse The Play | 21 | C (Hiring actors) |
| G | Create and Print Playbills | 5 | C (Hiring actors) |
| H | Technical Rehearsals | 3 | D,F (built set, rehearsals) |
| I | Dress Rehearsal | 1 | H, E (tech and costumes) |
| J | Opening Night | 1 | I, G (dress rehearsal and playbills) |

In producing theatre, tasks will likely be dependent on at least one other task being accomplished. In the above example, nothing else can happen until the rights to the play have been secured. Once that has happened you can start the process of hiring actors and building the set at the same time. Likewise, once the actors have been hired, you can rehearse the play, buy costumes, and create the playbills concurrently.
Step 3: Draw a diagram

Draw out a diagram that maps out each activity and the order that they need to be accomplished. This is a great way to visualize the "Dependent Tasks" and the "Concurrent Tasks" of your project.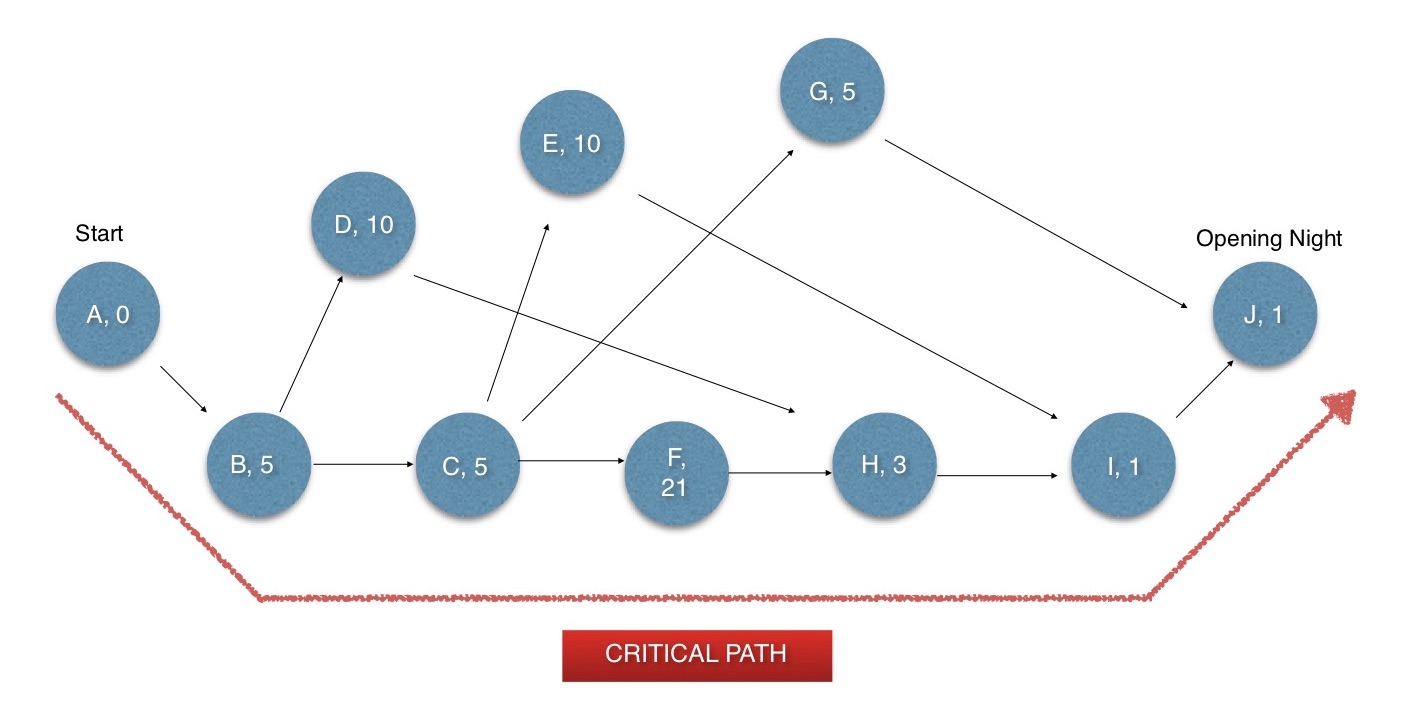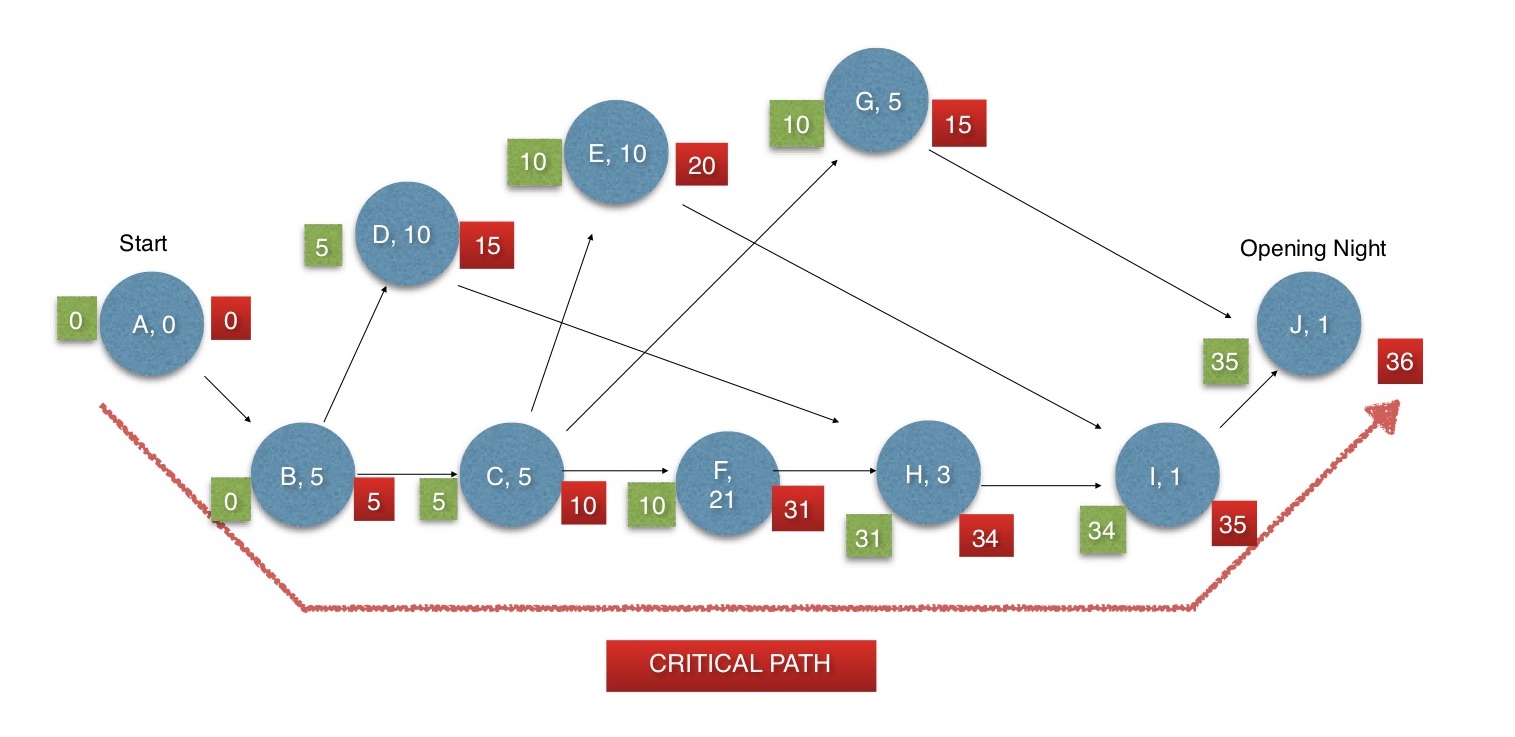 Step 4: Add up the time required for the critical path.

For each activity in your diagram, write down the start and end time. The start time of your first activity would be "0" and the end time would be its duration. The second activity would start at the end time of the first activity and its end time would add on the duration of the second activity.
Ie. (0) B (5)  (5) C (8)
Do this for all the activities in the sequence. The pathway that has the longest time frame is your Critical Path. Use this to build backwards from any fixed dates that apply to your project (ie. Opening night.) This information can be used in conjunction with other project management tools such as the Gantt Chart.
Want More?
Workamajig has put together an extremely comprehensive explanation for the critical path method if you still have questions!
Want to hear it explained and see it in real time? Watch this video: