So, Where does the money come from? Try downloading our Revenue Infographic or keep reading to learn more.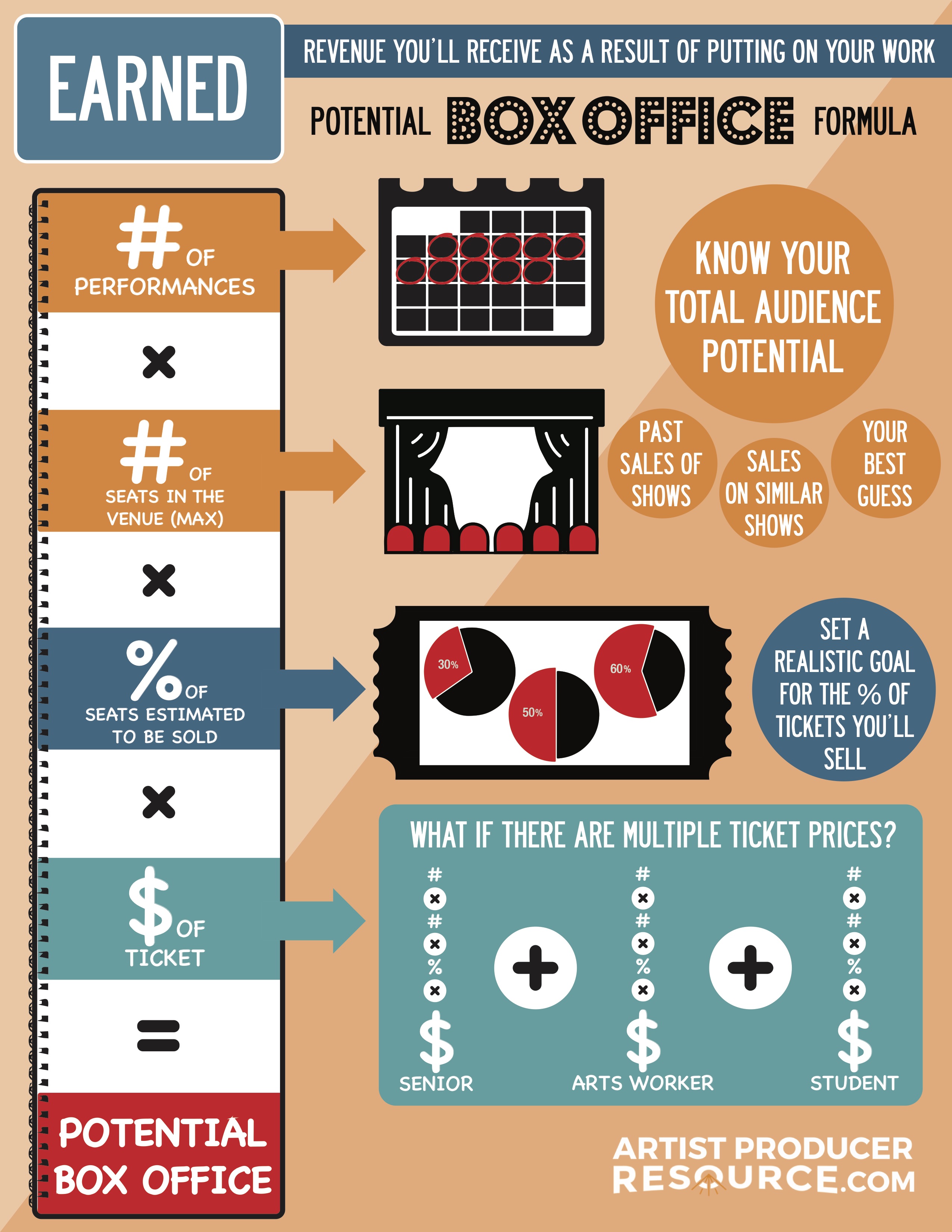 Revenue
There are three main Revenue streams:
Earned Revenue (box office, presenting fees)
Private Sector Revenue (donations, fundraiser, corporate)
Government Revenue (federal, provincial, municipal)
Earned Revenue
This is the revenue you'll receive as a result of putting on your work. It can include any of the following:
Box Office (or Admissions)
This is the money people give you in exchange for attending your work.
To calculate potential box office, you need to know your total audience potential. This is the capacity of your venue multiplied by the number of showings you will have.
Then set a realistic goal for the percentage of tickets you want to sell, an average guess is between 50%-60%*. This goal should change based on your audience needs. If you're doing a site-specific performance that only seats 20 people a night, you might calculate your audience goal a bit higher.
So a basic Box Office Potential formula would be:
10 performances x 100 seats x $20 ticket x 60% of house = $12,000
You should also budget for the different prices you'll be using. Will you have arts worker or students tickets, will you give a group rate/reduced ticket price for people with disabilities attending a specialized performance (Relaxed Performance, Audio Described Performance, or ASL Performance), are ticket prices increasing throughout the run of your show, etc.? If you have Pay-What-You-Can performances, the PWYC average can vary between $7.50-$17.
Note: A *50%-60% margin is based on working in a smaller venue or site-specific location, that generally has a lower audience capacity. If you are working in a more traditional venue, 30%-35% is a common expectation.
Presentation Fees
When a third party hires you to put on your show, they pay what is called a presentation fee. A presenter usually is not involved in the creative process of the production. You negotiate fair compensation with your presenter in exchange for putting on your show. If they are paying you a flat fee, this amount should be entered into your production budget as revenue.
Be very clear in a presentation relationship which party (or parties) will retain the box office. If the presenter retains 100% of the box office, you cannot include the box office potential in your production budget.
Merchandise
This is not necessary or common to all productions, but you might decide to create merchandise to sell to your audience when they attend your show. Keep in mind the costs involved in producing the merchandise (i.e. design, manufacturing, shipping) and make sure you account for that amount in your expenses.
Private Sector Revenue
Private sector revenue accounts for any sums of money you receive that is not earned through putting on the production or contributed from public funds. It usually reflects a relationship outside the scope of just a consumer or audience member.
Private sector revenue can include:
Program/Ad sponsorship
Corporate sponsorship
Private Funders (Foundations)
Individual Donations
In-Kind donations
Public Sector Revenue
Public or Government revenue is funding contributed to your production through government agencies and institutions.
Government revenue can include:
Municipal - ex. Toronto Arts Council, City of Toronto
Provincial - ex. Ontario Arts Council, Ministry of Tourism, Culture & Sport, Ontario Trillium Foundation
Federal - ex. Canada Council for the Arts, Department of Canadian Heritage, The Metcalf Foundation Performing Arts