The Professional Association of Canadian Theatres (PACT) is a service organization for professional theatre companies across the country. The organization acts as a collective voice for its member companies.
PACT is a Professional Association, representing Canadian Theatre companies, collectives, and other organizations, whose Labour Relations department negotiates collective agreements with other Professional Associations, including the Associated Designers of Canada (ADC-IATSE), L'Association des professionnels des arts de la scène du Québec (APASQ), Canadian Actors' Equity Association (CAEA), and Playwrights' Guild of Canada (PGC), on behalf of their membership.
These collective agreements include the Canadian Theatre Agreement (CTA) and Independent Theatre Agreement (ITA), the PACT-ADC Agreement, and the ADC-PGC Agreement.
PACT is an association for professional theatre companies only; this means that all artists your company engages must receive payment for their work. It is a member driven organization that supports the well being and betterment of Canadian Theatres.
"PACT provides leadership, national representation and a variety of programs and practical assistance to member companies, enabling members to do their own creative work." Taken from PACT's mission statement.
PACT Respectful Working Environment Initiatives
They currently have two initiatives in place to support respectful working environments for all and gender equality:
Not In Our Space! is a zero-tolerance commitment to creating anti-harassment workplaces and respectful work environments within theatres and rehearsal processes. PACT collaborated with Canada Actors Equity Association to create this national campaign that provides support and resources for a more equitable environment for all to work in. They created a first day statement document which you can use in your rehearsals to let everyone know where they can go to get support and/or additional resources on this subject.
Pledge Project was created by PACT's Diversity and Cultural Diversity Committees to bring awareness to the gender imbalance among playwrights, directors and theatre creators. They provide resources for how you can take make a pledge of your own to actively support gender equality in your organization, company, or production.

Here are some of their suggestions on how you can make your pledge:
Theatre Administrations
• Conduct internal audits of administrative practices and identify weaknesses
• Set organizational targets to achieve and enforce parity
• Ensure that gender is not subsumed under overarching institutional goals or ambiguous diversity mandates, and clearly articulate goals related to recruiting and retaining more women
• Develop policies and procedures to ensure theatres comply with human rights laws and professional codes of conduct
• Require administration, hiring managers, and creators to take self-assessment tests to uncover their own biases
• Remove all indicators of gender, age, and race from decision making contexts
• Create consistent interview processes that aim to eliminate bias and discrimination
• Use a blind submission process for vetting scripts
• Rectify imbalances by programming more work by women and people of colour
• Take advantage of resources (such as the EIT database) to recruit more women
• Track demographics about women within individual theatre companies to aid in the development and implementation of equity initiatives; collect these statistics annually to identify trends and changes
• Create flexible work environments that accommodate different needs, such as those of parents and elder care providers
• Initiate conversations with commissioned playwrights about roles for women; encourage playwrights to create more meaningful roles for women
• Support the advancement of assistant directors to directors by providing mentorship, training, and fellowships
• Partner with educational institutions to provide training to underrepresented groups, such as women lighting and sound designers
• Ally with colleagues belonging to the same professional organizations to advocate for pay equity between masculinized and feminized jobs
• Create a resource kit for pregnant actors, outlining responsibilities and considerations for both actors and their employers
Advocacy and Awareness
• Form audience advocacy groups to organize outings to plays by women and productions featuring an equitable number of artistic and technical roles for women; arrange discounts to these productions and make theatres aware of the demand for women's work
• Rate representations of women using the Bechdel test
• Create awards for theatre companies that meet equity targets
• Curate a list of plays by women and other equity-seeking groups and make it publicly available online
• Ally with men to advocate for gender equity; men can refuse to participate in theatres that don't program women in their seasons

For more information on joining PACT or about their equality initiatives you can contact them here.
Types of Memberships
You have to apply for your company to be a member of PACT. There are four types of memberships, Regular, Commercial, Associate, and Affliiate.
Regular & Commercial
Regular and Commercial Members agree to operate under relevant agreements negotiated by PACT, including the CTA. These members have full voting rights on all PACT business.
Associate
Check their website for updated information about this membership level.
Affliate
Affliate Members do not wish to operate under relevant agreement negotiated by PACT. These members can vote on PACT business with the exception of labour relations issues.
View membership benefits here

Here is a chart of the different benefits your membership can receive. A Downloadable PDF of this chart is available here: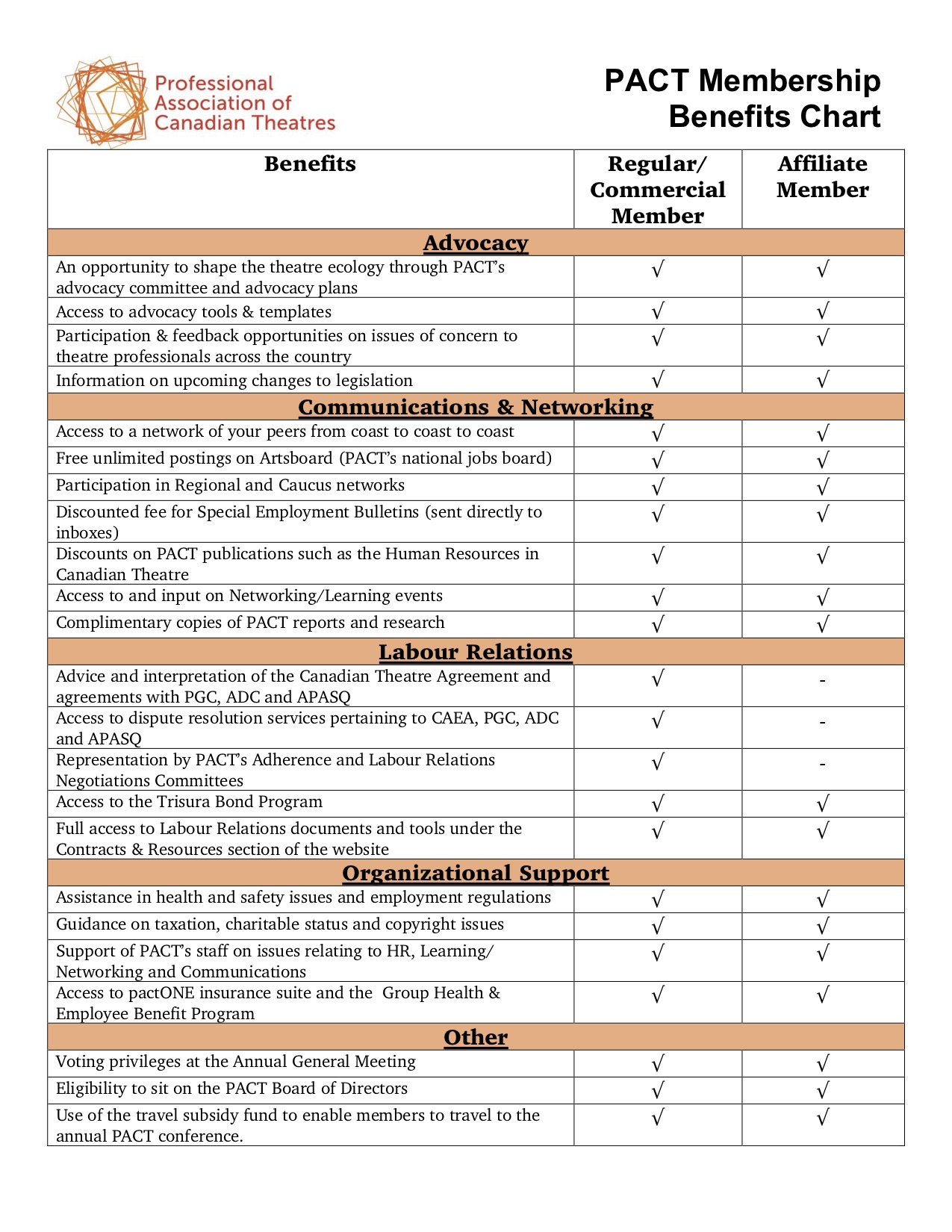 PACT CON
PACT's annual conference offers networking, professional development, and open forum opportunities. It is held in a different Canadian city each year. It is a hub for conversations that have occurred throughout the calendar year and offers frameworks for new discussion, debate and collaboration.
Your company does not have to be a PACT member to attend PACT CON.